Are you met with the "Unsupported Video Driver" message when starting up Premiere Pro?
Don't worry; this is usually a quick fix!
The "Unsupported Video Driver" error message in Premiere Pro means that Premiere Pro does not support your graphics card driver. The error is usually solved by downloading and installing the latest driver version from your graphics card manufacturer.
Check out this video on how to update your graphics card driver:
1. Update your Graphics Card Driver
Updating your graphics card driver is what's most likely going to fix the issue for you.
You can do this two ways; we'll start with the easiest.
1.1 Update Driver in Windows
Updating the GPU driver through Windows is a quick and excellent way.
Press the Windows key or click on Start in the Windows taskbar.
Search for Device Manager, and open it.
Expand the Display adapters, and you'll be able to see your graphics card(s).
Right-click the graphics card(s), and select Update driver.
5. Click on Search automatically for drivers.
Once that is done, try to launch Premiere Pro, and hopefully, you won't get the "Unsupported video driver" error.
If Windows says the latest driver was already installed, I recommend downloading it from your manufacturer's website instead, which I will show you next.
1.2 Manually Update Graphics Card Driver
Windows is usually a couple of versions behind the latest drivers. This is to ensure Windows doesn't install any drivers that might contain bugs etc., as they have been tested for some time (don't worry, this rarely happens).
Anyways, let's get to it.
Head to your graphics card manufacturer's official website, and go to their driver section.
Here's a link to the most common ones:
If you're unsure who is your GPU manufacturer, you'll find that in the Device Manager (as we did here).
You can see in the image I have the NVIDIA GeForce GTX 1650, meaning NVIDIA is my manufacturer.
Fill in all the specifications about your graphics card, and then download & install the latest version available.
1.3 Outdated CPUs
According to the internet, if you rely on an integrated Intel Processor from the 5th generation or older, you won't find any new drivers. 
Intel has stopped releasing new updates for those. Therefore, you can't fix the error if you have one of those processors.
However, there's a workaround!
The user reporting this problem said Premiere Pro was running just fine, except that he found the "Unsupported video driver" error quite annoying, and the software sometimes crashed.
His workaround was to turn off errors appearing when you launch Premiere Pro.
To do this, click Edit > Preferences > General, and uncheck Show system compatibility issues at startup > click OK.
If updating the GPU driver didn't solve the error for you, I've compiled a list of possible solutions:
These solutions are reported to have solved the error on various forums.
2. Reboot Computer
It's not without reason there's a cliché saying, "Have you tried turning it on and off again?" in the tech world. 
Rebooting the system is known to solve many bugs! So, give it a shot before going to the more advanced solutions.
3. Change Graphics Preferences
The following solution is to ensure Premiere Pro uses your powerful dedicated GPU.
This can be done in a few clicks (on Windows, at least).
Start by clicking on the Start button in the Windows taskbar or pressing the Windows button on your keyboard.
Then, search for Graphics settings, and open it.
Inside the graphics settings, click Browse and locate Adobe Premiere Pro's application file. 
The application file is the one that you can click on to start the software. If filename extensions are enabled, you'll see the Adobe Premiere Pro, followed by .exe.
Once you've located it, click on Add:
Doing this, Premiere Pro is  added to the application list inside the Graphics settings window.
Then, click on Premiere > Options > High performance > Save > Restart Premiere Pro.
4. Update or Downgrade Premiere Pro
Since each Premiere Pro update usually solves different bugs and errors, updating the software might solve the issue.
On the contrary, sometimes, you might run into new errors after updating, and in that case, going back to the previous version might solve the issue.
4.1 Update Premiere Pro
To do this, start by opening the Adobe Creative Cloud application on your computer.
Next, go to Updates, and then next to Premiere Pro, click on the Update button (if you can't see it, you're already up-to-date).
4.1 Downgrade Premiere Pro
To downgrade Premiere Pro, open the Adobe Creative Cloud application on your computer, and click on All apps.
Then, on the right side of Premiere Pro, click on the three dots, and click on Other versions.
Try installing the previous version.
5. NVIDIA: Try Both Studio and Game-Ready-Driver
If you have a graphics card from NVIDIA, you can choose between the Studio Driver and the Game Ready Driver.
The studio driver is the one that's intended for video editing and such. So, if you have installed the Game Ready Driver, try installing the Studio Driver instead.
However, a user in the Adobe community was experiencing the error when using the Studio Driver and solved the error by installing the Game Ready driver. Therefore, I recommend trying both.
Here's a link to NVIDIA's official website, where you can download them.
6. Plug the Monitor into the GPU
Another user in the Adobe community said that he solved the "Unsupported video driver" error by plugging his monitor into the graphics card port.
So, if you have multiple ports to connect the monitor, make sure it's plugged into the graphics card, not the motherboard.
This solution mainly applies to desktop computers with multiple ports to choose from.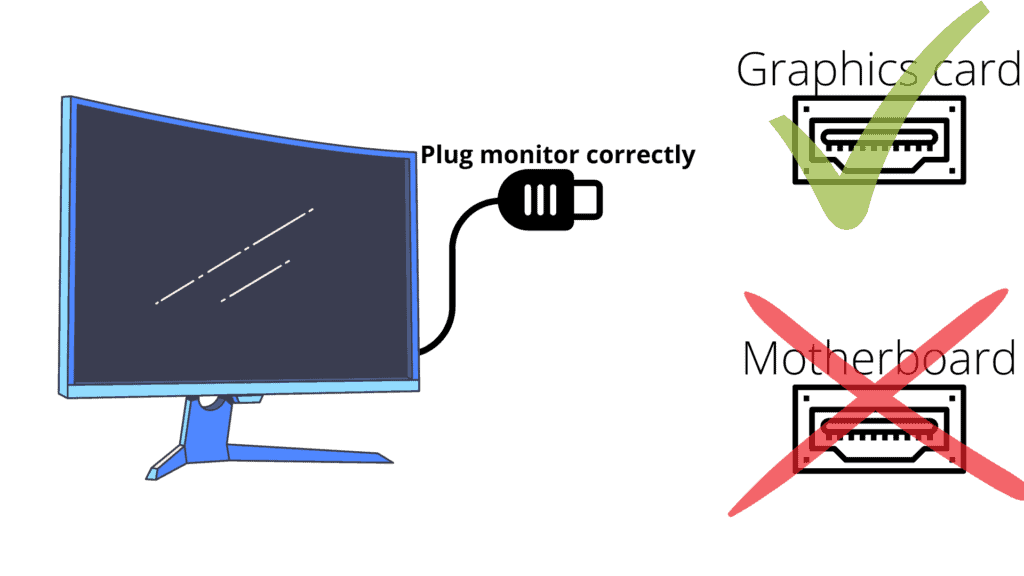 That's it; here's a list of the most frequently seen errors in Premiere Pro that you'll likely face at some point.
TIP: bookmark the list to refer back to it later on quickly!